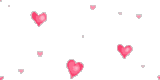 Thanks to Dave Batdorff for letting us know that Rob Keith has undergone eye surgery in June 2007. He will have the results in three weeks. Rob has always done such a wonderful job in keeping our address list updated and keeping in touch with everyone. I, for one, miss hearing from him and cannot wait until his vision is back. Get well soon, Rob!! PS.. If you'd like to send him a card, his home address is 1861 Kenwood Drive, Lake Havasu City, AZ 86404-1804

Ken Babb was kind enough to email me to say that he received a phone call from Dave Borra regarding Allen Boxall. "I understand that Allen has been in the Hospital for cancer surgery. They say that they got it all and have sent him home. If anyone would like to send Allen a card or E-Mail, his address is 1016 Highland Road, Brentwood, Tenn. 37027-5528. His E-mail address is allenboxall@yahoo.com." (5/25/07) Get well soon, Allen!!

Fremont "Tiny" Tanner sent the article below and said "Stephanie Hinshaw and I worked together on Milstar prior to my retirement. I am quite proud of this. We worked long and hard to deliver this vehicle."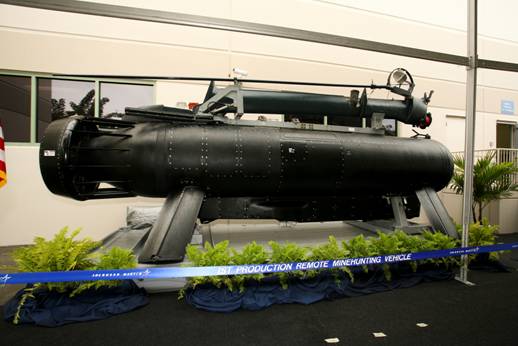 Ribbon Cutting Ceremony Marks Delivery of RMV to U.S. Navy
On Friday, April 6th, 2007, MS2 Undersea Systems Mission and Unmanned Systems in Riviera Beach conducted a ribbon cutting ceremony to mark the delivery of the 1st Production Remote Minehunting Vehicle (RMV) to the U.S. Navy. The RMV is a key component of the RMS that will be part of the mine warfare mission package aboard the Navy's LCS and its DDG-51 Class Guided Missile destroyers.

"I am extremely proud of our Lockheed Martin and Navy team for successfully reaching this key milestone" said Fred P. Moosally, President of Lockheed Martin's Maritime Systems and Sensors business. It marks the delivery of a significant capability to the Navy that will help keep our sailors and ships out of harm's way. This technologically advanced product delivers a critical capability to the Strike Group Commander, which will result in improved battle space awareness.

The event was officiated by Jim Weitzel, Vice President Mission & Unmanned Systems, before a standing-room-only audience including employees, employees' family members, and notable guests at the Riviera Beach 45th Street facility.

Update on Bob Skeoch from Gloria via Rob Keith, 3/20/07

HE IS DOING VERY, VERY WELL. BACK IN NURSING HOME, SMILING AND JOKING. HIS VOICE IS VERY SHALLOW, BUT STRONGER THE DAY AFTER DIALYSIS. FRIENDS HAVE STOPPED BY AND SOME FROM FAR AWAY. I TRY TO GET OVER EVERY DAY EVEN FOR AN HOUR OR SO. THE DIALYSIS TREATMENT TAKES SO MUCH TIME OUT ON TUESDAY, THURSDAY AND SATURDAY AFTERNOONS. HE DOES IMPROVE WITH THE TREATMENT. HE DOESN'T SEEM TO HAVE AS MUCH PAIN, AND FEWER SPASMS. SAYS HE IS LOOKING FORWARD TO HEALING THE STUMP AND GETTING A PROTHESIS AND LIVING TO BE A 100. HE WON'T START PHYSICAL THERAPY UNTIL THE STITCHES COME OUT, WHICH WILL BE NEXT WEEK. HE IS NOW DOWN TO 140, SO THERE HAS BEEN A GREAT WEIGHT LOSE, BUT HE LOOKS GOOD. THANK YOU FOR SPREADING THE WORD OF HIS HEALTH. HE DOES ENJOY READING THE EMAILS.

AS EVER, GLORIA
hummingbird99337@sbcglobal.net
********************************

Received this note from Rick Toole regarding Bob Skeoch, so am passing it along to all "Sea Salts" Rob Keith 3/18/07

Bob is still in 603B.(El Camino Hospital) how long is hard to tell. Yesterday was not a good day for him. Began to have knee spasms and pain. When he gets pain meds it fouls up BP or blood sugar or both. He also began to have chest pain. His surgeon hasn't been in to see him today, but his renal doctor has. I get the sense that when the physical therapist can get him to stand up and balance, then sit in a chair, they best can evaluate him to going back to the nursing home. That place is in Sunnyvale, off Fremont and 85. Sunnyvale Health Care Center, 1291 S. Bernardo Ave. (408) 245-8070, at present I don't know the room. They may not put him back into the one he was in. Lobby will know. He would greatly enjoy seeing and visiting with you. My cell phone is (408) 859-4551, I always have it with me.
Rob Keith forwarded the following mail to me about Bob Skeoch.
*******************************************
March 8, 2007
HELLO ONE AND ALL,
BOB HAD TO HAVE LEG AMPUTATED ABOVE THE KNEE BECAUSE HE HAD GANGRENE IN HIS FOOT. HE CAME THROUGH VERY WELL AND WAS WISE CRACKING WITH NURSE LATER. LAST NIGHT STARTED HAVING PAIN AND OF COURSE HE WAS HUNGRY. I WILL CALL AND SEE HOW THE NIGHT WENT. HE WILL HAVE DIALYSIS IN THE HOSPITAL TODAY. I WILL KEEP YOU INFORMED OF HIS PROGRESS. DOCTOR FELT HE WOULD BE IN HOSPITAL ABOUT 5 DAYS.
LOVE, GLORIA
****************************************************
Passing this on from Doris (Pleis) about their current situation (12/15/06 from Rob Keith).

Otto and I have been in assisted living homes since in October. The chemo put the leukemia in remission. He now has dementia. He is in a home about 3 miles from me. My telephone number is 916-729-2515. Happy Holidays. Otto & Doris Pleis
Thanks to Hal Lewis for contributing the following:
SUMMARY: The Department of the Navy hereby gives notice of the availability for donation, under the authority of 10 U.S.C. 7306, of the Test Craft ex-SEA SHADOW (IX 529) and the Hughes Mining Barge (HMB1), both located at the Maritime Administration's Suisun Bay National Defense Reserve Fleet, Benicia, CA.

Ex-SEA SHADOW is contained inside HMB1, which is a covered floating dry-dock, and is being offered for donation as a single unit.
This is excerpted from page 54276 of the Federal Register/Vol. 71 No. 178 September 14 2006. Please click on this link for complete notice.
(There are photos of the HMB1 on the Photos page. Thanks to Geoff Wilkie for sending them.)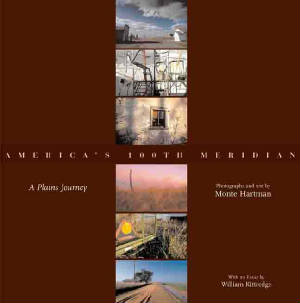 Thanks to Cheryl Ousey for the following:

I keep my eye out for Glomar information and found this magazine on e-bay last month. It is dated September 1978, and is in perfect condition. The article begins on page 26 and finishes on page 37. There are some wonderful photos both in color and black and white. If anyone wants a copy of the article they can email me at cjousey@charter.net with their mailing address, and I will get a copy out to them. It is really great reading.

Well, hope to see you next year at the reunion.

Cheryl (Lil Bit) (Andrus) Ousey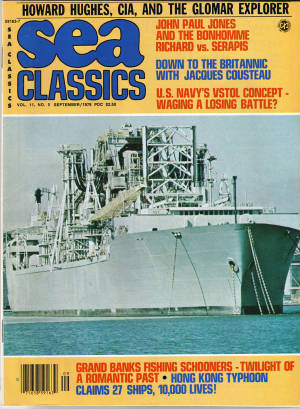 A plane made almost entirely out of "printed" parts flew in July 2006 at an airshow in Britain. It was made by Lockheed Martin's Skunk Works in Palmdale, CA, and is a 28m unmanned vehicle made of radar-absorbing composites.

About 90 per cent of Polecat is made of composite materials with much of that material made by rapid prototyping.

The entire Polecat airframe was constructed using low-cost rapid prototyping materials and methods," says Frank Mauro, director of UAV systems at the Skunk Works.

For more information, click on the link below:
New Scientist Tech: A Plane You Can Print
(Thanks, Mont Tanner)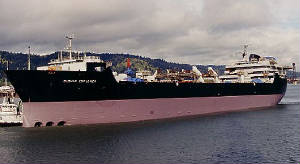 Thanks to Jim Irwin for the following article published in the Delco Times about the Glomar Explorer.

08/03/2006
Glomar Explorer Garners Historic Landmark Status
Timothy Logue, Of the Times Staff

When John Lahm got his first look at the Glomar Explorer in November 1972, he had no idea the ship floating before him on the Delaware River was about to embark on a top secret Cold War mission. "It was the strangest looking ship I'd ever seen," said Lahm, then a crane operator working on the construction of new Philadelphia Electric Co. plant in Delaware County. "Contractors don't like to see men standing still, but 2,000 men stopped working when they saw that ship."

"I remember someone saying, "That's Howard Hughes' boat."

Built at Sun Shipbuilding and Dry Dock in Chester and measuring more than 600 feet in length, the Glomar Explorer was thought to be the eccentric billionaire's latest creation: a ship that would be used to mine magnesium from the ocean floor.

In reality, the vessel was the centerpiece of the CIA's "Jennifer Project," a clandestine mission to raise a Soviet nuclear sub known as K-129 which went missing in March 1968 under mysterious circumstances in the Pacific Ocean.

On Wednesday, the Pennsylvania Historical and Museum Commission honored the Glomar Explorer with the placement of a historical marker in front of the Independence Seaport Museum at Penn's Landing.

It is a distinction Lahm has been seeking since 1998.

"It was great event," he said. "The marker is about 4 by 4 feet with a 10-foot pole. It has a dark-blue background with raised gold lettering."

Lahm helped unveil the marker with commission member Janet S. Klein. Sun Ship will also be recognized with a marker in the coming months for its contribution to the war effort.

Using a massive submersible claw, the Glomar Explorer recovered a portion of the Soviet sub in 1974 from a depth of 17,000 feet. In waters located approximately 750 miles northeast of Hawaii, the remains of six crewmen were also discovered. According to the U.S. military, the men were subsequently reburied at sea with full military honors.

Fascinated by the ship since the day he laid eyes on it, Lahm contacted the CIA to get whatever declassified information he could on the Glomar Explorer.

"I was working on a historical novel and I needed a recovery ship for my storyline so I asked for all the documentation that was available," said Lahm, who lives in the Mayfair section of Philadelphia and operated overhead and floating cranes at the Philadelphia Navy Yard for a time.

"I think a lot of people would be interested in the story, especially the people who worked (at Sun Ship)," he said. "Many of them are still alive."

News of the Glomar Explorer's true purpose began to surface in 1975. Today, the ship is used for drilling operations and is on assignment in the Gulf of Mexico for a company called Global SantaFe.

The ship has also been honored by the American Society of Mechanical Engineers for its technological attributes.

"Apparently Sun Ship was used to doing bizarre jobs like this," Lahm said. "I talked to rigger who said it was the only ship he worked on where men with shotguns inspected the work when they laid the keel."

©DelcoTimes 2006

Please email news to:
OceanMarinePeeps@gmail.com