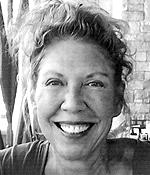 Thanks to Donna Cordero Whitfield for passing on this information about Linda Fitch. Linda's mother, Helen McClure, worked for Ocean/Marine Systems Security office in the 1980s. Linda also worked there for a while. Helen passed away from lung cancer in April 2000.

Linda McClure Fitch, age 54, passed away on November 28, 2006 in Woodland Park, Colorado. She was born in San Francisco, worked for Lockheed Missiles and Space in Sunnyvale, CA, moved to Saudi Arabia and then onto Titusville, FL. where her husband was the Lockheed V.P. of Human Resources. Upon his retirement, they moved to Woodland Park. Linda was active in the community and worked as a personal fitness trainer. Through her love, attention and understanding she touched the lives of many. She is survived by her sister, Joan Broderick; brother, John McClure; and loving husband and soul mate, Jim Fitch. Services will be held at 7:30 p.m. on Tuesday, December 5, 2006 at Our Lady of the Woods Church, 116 Southwest St., Woodland Park, CO. In lieu of flowers, please send donations to: Porteville Developmental Center, P.O. Box 2000, Porterville, CA 93057 in care of Trust RAP Fund.

Published in The Gazette (www.gazette.com in Colorado Springs) on 12/2/2006.
1 November from Charlie Wiseman:

I am sorry to tell you of the passing of Mary Katherine (Bunnie) Welling from a brain tumor. The illness was quite sudden. She was buried yesterday in the Gates of Heaven cemetery in Los Altos. Connie's son is staying with Connie at the house and his daughter who lives nearby are helping Connie adjust. There will be an Open House celebrating Mary Katherine's life this Saturday at Rosener House, 500 Arbor Road in Menlo Park from 1 PM to 3 PM on Saturday, 4 November. The Open House is being sponsored by the Peninsula Volunteers organization of which Bunny was a member. The address for condolence letters is: Capt Connie Welling, USN (Ret), 102 Catalpa Drive, Atherton, CA 94027
Hank Miller was kind enough to let me know that Jack Hoyle and Bob Engquist passed away in 2006. I was able to locate Jack's obituary online, but didn't have any luck finding Bob's. If anybody has any further information, please let me know. I will be happy to post it.

Jack Hoyle
April 17, 1921 - August 17, 2006
Passed away at home after a five month battle with a brain tumor. Loving husband of Elenore, his wife of 53 years; his children Pennie (Jay Clem) & James (Amy); Grandkids Amanda & Spike Clem; brother Henry, and grand-dog Harley. A proud WWII vet, he served with the 41st Signal Co. in New Guinea and the Philippines. Retired from LMSC, he pursued many different interests including square dancing, traveling, stamp collecting, tomato growing, and the craps tables in Reno. A true character and fun-lover, he is so loved and missed by his family and friends. A private memorial will be held. Memorial donations can be made to Hospice of the Valley, (408) 559-5600.
Subject: Al Platt - Arlington National Cemetery Military Honor Service

Dear All,

We are emailing with details on Al's funeral service being held with full military honors at Arlington National Cemetery on September 29, 2006 at 9am in Arlington, VA. If you are attending, you will need to be at the main gate of the cemetery by no later than 8:30am.

Our family is hosting a reception immediately following the service at the Vantage Point Rooftop restaurant located at the top of the Hoilday Inn Rosalyn @ Key Bridge in Arlington (1900 N Fort Myer Drive). We are looking forward to visiting with all of you that are able to attend. There will be a seafood buffet and a memory table for Al with a picture slide show and other items. Please RSVP if you are able to attend so that we can give the restaurant a head count.

We will be staying at the Holiday Inn Rosalyn @ Key Bridge in Arlington (1900 N Fort Myer Drive) as well. If any of you will need a hotel, we have a block of rooms available for $109 per night. You will need to call the hotel directly to make reservations (not the national reservation line). The code is PMM (for Platt MeMorial) the phone number is 1-703-807-2000

I believe there is also a block of rooms at the Sheraton National (900 South Orme Street, Arlington, VA 22204 (703) 521-1900 : www.SheratonNational.com) for $119 per night under "In Memory of Alvin Platt".
There are also other hotels in the area that are cheaper or more expensive. Click on this for a link to a map of the area with hotels.
Love,
Patt, Judy, and Sandy.

738 Kent Dr. El Cajon, CA 92021
Voice: 619.749.6110 Fax: 619.749-6105
Email: awplatt@cox.net


Rob Keith and Frank Moeller reported that George Phillips passed away in July 2006, but I was unable to find an obituary online. If anyone knows more details, please let me know and I will post them.


Jeanette E. Hodes

Jeanette E. Hodes died peacefully on June 4, 2006. Preceded in death by her beloved son Peter D. Hodes; loving parents, Ruby and Henry Tobias, niece, Abby J. Feinberg and brother-in-law, Joseph B. Ginsberg. She leaves her loving sister Helen T. Ginsberg; nieces Beverly A. Wilets, Lora L. Ginsberg; four great nieces, their spouses, and seven great-great nephews and nieces.

Aunt Jeanette, originally from Portland, OR, retired from Lockheed and moved from the Peninsula to San Francisco. The past five years she has happily lived at Rhoda Goldman Plaza where she received exceptional, thoughtful care this past year. Her love of and devotion to Temple Emanu-El is expressed in her words "It keeps my heart beating."

Aunt Jeanette participated in the Torah class, arranged a weekly bridge class and was in charge of programs for the Emanu-El elders group as well as attending weekly services. Her love of opera, understanding and knowledge of music, sense of humor and warmth helped make her the special woman we knew and loved.

Whenever I think of you Aunt Jeanette, you'll be wearing one of your "hats" at a jaunty tilt with a beautific smile on your face. You will be missed. The family also wishes to pay tribute and give thanks to her many doctors who were kind and understanding to Aunt Jeanette. A special thank you to Quinta Cruciger, M.D. and Marc P. Cruciger, M.D. of who she was especially fond. Donations may be made in Aunt Jeanette's memory to Congregation Emanu-El, c/o Gary Cohn, P.O. Box 591510, SF, CA 94159-1510 or to the Rhoda Goldman Plaza (specify for scholarship), c/o S. Koster, 2180 Post St., SF, CA 94115 preferred.

Published in the San Francisco Chronicle on 6/8/2006.




Herbert Morgan Cooper

15 April 1928 - 6 August 2006

Herbert Morgan Cooper died at his home under the loving care of his family following a long battle with cancer. He was 78 years old. Herb was born in Augusta, Georgia in 1928 and was the adopted son of John Morgan and Mary Sophia Russell Cooper who preceded him in death.

Herb attended Lanier High School for Boys in Augusta where he participated in ROTC. He enlisted in the Army and served in various tours including Italy and Greece in the Finance Department. Herb met his wife, Patricia Ann Allison, in Greece and proposed to her on the Acropolis in 1949. Herb and Pat were married in Macon, Georgia in 1950.

After graduating from the University of Maryland with degrees in Finance and a Master of Business Administration, Herb became a certified public accountant in 1955. Herb worked in public accounting for several years before moving his family to California to join Lockheed/Martin in 1959. Herb worked in various internal auditing and finance positions at Lockheed during his 30 career. He was a charter member of the Institute of Internal Auditors and served a term as president.

Herb believed in community service. He was active in the PTA and donated his unique financial talents to many organizations including the YMCA, Girl Scouts, Boy Scouts, and the West Valley Presbyterian Church.

Herb is survived by Patricia, his loving wife of 56 years; their children and grandchildren; his brother and sisters; and many nieces and nephews & extended family. His daughter is Pamela Marguerite Burns and sons Michael Cooper and Emmons Burns. Grandchildren are Lindsey Marguerite Cooper, Peter William Cooper, Sarah Elizabeth Cooper, Stephen James Cooper, and Jonathan Patrick Cooper. Herb is also survived by his brother Dr. Robert Cooper (Betty) and sisters Shirley Miller (Rob) and Celia Cooper, all of Georgia.

Herb was known for his sense of humour, his spirit of encouragement, his willingness to help others, and his wonderful smile. His word was his bond. Herb will be greatly missed.

A private internment service will be held in Los Gatos. A Memorial Service and Celebration of Life will be held at 11:00am on Friday 11 August 2006 at West Valley Presbyterian Church, 6191 Bollinger Road, Cupertino, California. Memorial contributions, in lieu of flowers, may be made to the West Valley Presbyterian Church Foundation, 6191 Bollinger Road, Cupertino, California 95014.

Arrangements by DARLING-FISCHER Chapel of the Hills.
Published in the San Jose Mercury News on 8/9/2006.



Dear Family and Friends,

Please join us for a Sunday walk in Saratoga Creek Park at 11:00 am on July 23, 2006 in memory of Chucky. Attire is informal with walking shoes preferred. There are 5 entrances to the park and once inside the park you can easily walk to the Eileen Drive entrance, where we will begin. Chucky took Coco to this park almost every day and when he didn't, Coco let him know she was not pleased. All doggies on leash are encouraged to join us. I'm looking forward to being with all of you.
Love, Hilda Guzzetta

Saratoga Creek Park
San Jose
Hoyet Drive & Cordelia Avenue San Jose CA 95129
(408) 277-2757


C. Turner Joy, Jr., Marketing Director for Lockheed Oceans Systems, passed away
on Monday, June 19, 2006.





AKIMOFF, Igor

Saturday, June 24, 2006

Igor Akimoff Died peacefully, surrounded by family, on June 21, 2006. He was 87. Igor was affectionately known as "Ak" to his friends and work associates.

Igor was born on October 15, 1918 in Kiev, Russia, which is now in the Ukraine. He and his family fled from the Russian Revolution to Harbin China where they lived until immigrating to the United States in 1929. He graduated from Sacred Heart High School in San Francisco. Igor met his wife, Iraida in SF, where they married in 1945. He worked as a mechanic in the shipyards during World War II. After the war, he joined at Pan American Airlines. During the late 1940 & 50s, he opened his own business repairing private planes at Santa Rosa Airport. When his business failed, he joined Hiller Helicopters.

With the arrival of their children, Igor decided to improve his career prospects and attended night classes to become a mechanical engineer. He began his engineering career at Hiller Helicopters but shortly moved to Lockheed. Igor quickly developed a reputation as a top-notch designer and problem solver. He retired from Lockheed in the mid 1980s after a long distinguished career. Igor loved airplanes from the moment he saw one fly overhead as a child in China. He enjoyed designing them, building them, and repairing them; even more than flying them. It was a true passion.

Igor was a devoted husband and father. He was preceded in death by his beloved wife of 59 years, Iraida, and his parents Viacheslav and Tatiana Akimoff. Igor is survived by his sister Kitty Fedoroff of Daly City, CA; sons, Greg Akimoff and wife Jeanne of Georgetown, TX, Paul Akimoff and wife Jan Johnson of Fort Mill, SC, and Mike Akimoff and wife Stephanie of Yelm, WA; grandchildren, Justin, Amanda, Luke, Aaron, Mark, and Sarah Dickert and her husband Gary. A celebration of Ak's life will be held Thursday June 29 at 4:00 pm at Duggans Serra Mortuary, 500 Westlake Avenue, Daly City, CA 94014. (650) 756-4500. The family requests that in lieu of flowers a donation be made to the American Cancer Society.


Richard "Dick" Spath
1924-2006

Survived by his loving wife Lu, son Carl and stepchildren Kelly (Craig), Sean and Shannon (Robert). Also survived by his grandchildren Michael, Tim (Tracey), Even (Tanja), Sarah, Kate (Michael), Corwyn (Anndrea), Brandon, Alexander, Rigoberto, Sean, Brianna and Preston. He was also the proud great grandfather of Jenny, Brandon, Stephanie, Noah, Emma, Lainey and Claira. Dick was preceded in death by his son Richard.

Dick was a true Renaissance man having spent his life as a student, military officer, aerospace engineer, psychotherapist, budding artist and poet. Dick was also a friend of Bill W. for over thirty years. Dick was loved and respected and will be missed by all who knew him.

Please come and share this celebration of his life on Sunday, June 4th at 2:00 p.m. at Spangler Mortuary, 799 Castro Street, Mountain View, CA.

Published in the San Jose Mercury News on 5/31/2006.
Ackerman, Bill
Akimoff, Igor
Aguirre, Joe C.
Alger, Ken
Anderson, John
Anderson, Pat
Axton, Ted
Bachman, Ross
Becker, Richard
Berger, Otto
Biddell, Paul
Borer, Walt
Bower, John
Bowers, Jay P.
Braasch, Charlie
Brooks, George
Brown, Norm
Buellesbach, Richard
Carrier, Walt
Carson, Jim
Casini, Gene H.
Christensen, Mark J.
Coffey, Bill
Comstock, Jim
Corrales, Rosalio Chuck
Crone, Bob
Davenport, Gordon H.
Diamond, Krist A,
Dick, Jerry L.
Dunbar, Al
Eckhardt, Marsh
Ellis, Nick
Eminger, Lee
Engquist, Bob
Fitch, Linda
Fletcher, Jim
Fletcher, Tom
Franzen, George L.
Freshwater, Doug
Geist, Jerry
Germeraad, Don
Georges, Wally
Gillespie, Gary
Gillespie, S.
Griffith, Mary Lorraine
Gunn, Roy T.
Guzzetta, D. J. (Chuck)
Hamm, Don
Hoyle, Jack
Jacobson, Ron
Jameson, Dick
Jones, Vern D.
Joy, C. Turner, Jr.
Kirwan, Bob
Komuchar, Rudy
Lancaster, Bill
Leonard, Robert P.
Linders, Tom
Lockwood, Jerry
Locke, Dick
Loder, Bill
Looman, Jim
Lord, Ernie
Louzader, John
Lundgaard, Bertel
Lynn, Raoul
Massey, Jim
McAmish, Joe
McIntosh, Ed
Melchert, Ed
Menz, Darrell
Messenger, Bernie
Mlady, Bob
Montriel, Mary
Morry, Bill
Muller, Betty
Newman, Anthony C.
Nilsen, Norm
Ninokata, Anne
Norton, Roy
O'Bryan, Tom
O'Keefe, Bill
O'Rear, Travis R.
Patten, Skip
Paulsen, Dan F.
Phillips, George
Pleis, Otto
Pofahl, Paul
Rees, Ernie
Reinert, Freddy
Rice, Arthur J.
Rice, Bill
Rickert, Lyn
Risso, Jr. Andrew
Rodriguez, Joe
Rollison, Herm
Rosenblum, Marty
Schapiro, Leo
Scharfenstein, Chuck
Shavlach, Rosty
Schierholz, Charlie
Sheller, Harry
Shelton, Milton
Shunk, Pete
Skeoch, Bob
Sliker, Robert
Smith, Doug
Smith, Harvey J. (Snuffy)
Smith, William
Spath, Dick
Stewart, Joe
Tavsanli, Hull
Taylor, Ed
Thompson, Neil
Trammel, Carol
Trimble, Lloyd C.
Triplitt, Sam
Turlington, Paul
Tyrrell, Robert
Ulbrich, Herm
Vargas, Eddie
Vytlacil, Nick
Wada, Bill
Weber, John
Whitmore, William F.
Wildsmith, Brian
Williamson, Del
Woon, Kim
Worthington, Tom F.
Wyatt, Bill
Zuganis, Nick